Meet your new Learning Skills Advisor – Dr Ella Dixon
22 Jul 2021
After a successful Semester One the Country Universities Centre (CUC) Macleay Valley is continuing its momentum to employ a Learning Skills Advisor.
This role will work with local students to improve their academic skills and provide learning support in a face-to-face capacity throughout the semester and beyond.
There was much interest in the role, but it was local woman Dr Ella Dixon who was the frontrunner.
Ella has a PhD in Sociology from Macquarie University and over 10 years' experience tutoring and lecturing in the university sector. She has worked at Macquarie University, the University of Sydney, and Charles Sturt University.
Ella left Kempsey after graduating from Kempsey High in 2005 to pursue higher education as there were no options to study locally; however, she recently returned to the Macleay Valley to settle down and raise her young son.
Dr Dixon said she was pleasantly surprised to see the opening of the Country University Centre in the heart of town.
"For me, this initiative is the first step in a much longer road to a more equitable future for our Valley", Dr Nixon said.
"Education broadens your horizons, gives you new insights and empowers you to seek meaningful and dignified employment and so being able to support rural students in their higher education journey is for me, an amazing opportunity".
The employment of a Learning Skills Advisor will build on the learning community the Centre is working hard to establish. Ella is delighted to be taking on the role and will bring her passion for education.
Ella will be working with students in a one-on-one capacity, but also running workshops for focused on students' general academic skills, such as referencing, writing and exams.
"I'm so excited to be part of this space and really look forward to working with students to help them feel supported and inspired to complete their degrees".
CUC Macleay Valley Chair, Liz Campbell, was delighted to find that the CUC Macleay Valley continues finding quality candidates from our local community.
"Having two local women working at our Centre, both with a university education, is a testament to the skills and knowledge our people have here in the Macleay Valley. This will continue to foster the learning community we are trying to build at the Centre", Ms Campbell said.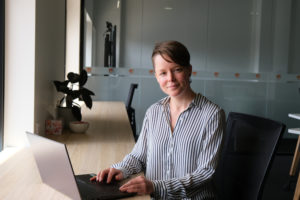 If you would like to register to use the CUC Macleay Valley and access the Learning Skills Advisor, visit our Learning Skills Advice page for more information.